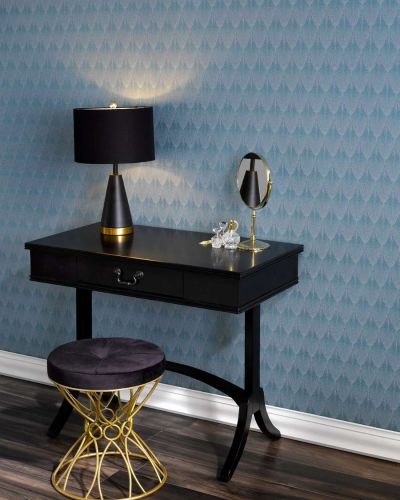 Alis ALI-004 Blue Emperor
In Natura, nature's microstructures are captured in visual textures like Chevron Cork. Made by strategically layering and cutting cork bark until it can be sliced into thin sheets with a petite chevron pattern, the cork wallcovering has a beautiful texture — almost fern-like with its imperfect symmetry and subtle movement. Type II vinyl wallcovering Miza has an organic, mottled texture reminiscent of tree bark; and like tree bark, when the pattern comes into focus, it's a puzzle of broken lines and shifting forms. New cork wallcovering Birchbark also achieves a tree bark-like pattern through printing. Thin slices of cork bark (a sustainably produced, renewable material) are first laminated to a metallic foil, then over-dyed and printed in three layers of color for an allover natural texture. Inspired by the intricacy and iridescence of a dragonfly's wing, Alis — or "wings" in Latin — explores one of nature's most recognizable geometric structures in an elevated Type II vinyl wallcovering. Subtle enough to be used as a texture, the distinct small-scale pattern of Alis draws from observation of nature in its most minute detail. Reflecting nature's color palette, Natura highlights this season's serene grey-green alongside complementary desert tones and warm sky blues. The color direction is most apparent in the expansive palettes of Intersection — a new elevated Type II vinyl wallcovering with a crosshatched texture and subtle emboss — and Arpora, a Type II vinyl that replicates the look of woven grasscloth through highly detailed embossing. Now offered in a bright, fresh palette of 20 colorways, 11 new for summer, Arpora has an authentic look and feel that make it one of Innovations' most popular wallcoverings. With fresh colors, patterns and techniques, Innovations' SU22 Natura Collection of 10 wallcoverings connects the natural environment with interiors in a rich textural landscape.
View product catalog.
For additional details visit us.
Contact: Brittany Kane T. 212.807.6300
E. bkane@innovationsusa.com
About Innovations: For over 45 years, Innovations has been committed to forward-thinking design and creating wallcoverings that transform interiors. With everything from natural wovens to luxe textiles and elevated vinyls, Innovations' versatile assortment explores materiality and technique without compromising durability. Experience wallcovering with Innovations.