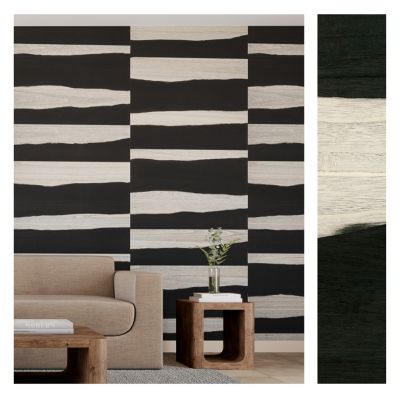 Zebrano ZEB-07 Zebrawood
Metallics accentuate each design through techniques such as embossing, tip printing, open structural weaving, and dyeing that help enhance the natural allure of each material. The juxtaposition of matte and shiny, light and dark, smooth and textured creates a stunning interplay of depth. It reflects light beautifully and adds a touch of deco elegance and visual intrigue. This allure of metals can be explored as a subtle accent or used to create a luxurious statement wall, brightening any interior elegantly.
Agate
's large-scale pattern was inspired by the image of molten lava flowing through the layers of the earth, in an elaborate array of color and texture. The captivating hues of the pattern's rich palette are enhanced with a metallic finish that give the layers even more depth, like the natural beauty of an agate stone. Agate is a durable Type II vinyl wallcovering, giving the flexibility to install a statement wall while meeting the demands of any space.
Zebrano
's understated elegance is apparent in its simple yet bold choice of color and pattern, inspired by the exotic beauty of zebra wood. The dynamic pattern explores a classic brush-stroke design, free-flowing and hand-painted in varying widths on an extremely durable wood veneer. The wood softly absorbs the dye, showcasing both the hand-dyed nature of the thick horizontal brushstrokes and the beauty of the natural wood grain. Whether you are looking to add just a touch of shine or a lavish design, the ten wallcoverings in this collection offer countless ways to incorporate a gilded look. Intricate patterns created from layers of color and ink, large, bold brushstrokes, or repeating geometric motifs make an impact with a highly decorative look. For more information and to explore the full collection, please visit
click here
.
###

About Innovations:
For over 45 years, Innovations has been committed to forward-thinking design and creating wallcoverings that transform interiors. With everything from natural wovens to luxe textiles and elevated vinyls, Innovations' versatile assortment explores materiality and technique without compromising durability.
Experience wallcovering with Innovations.