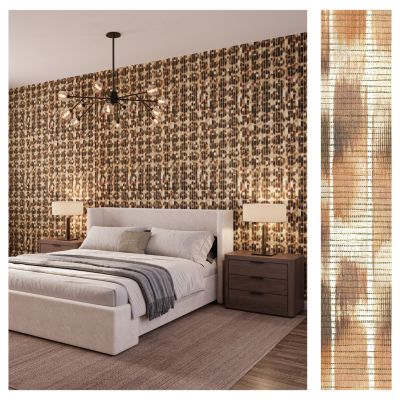 Ferghana FER-06 Loy
Traditional textile work gets a modern update with Ferghana, part of Innovations' Spring 2023 Collection, Layered Forms. The natural woven wallcovering recreates the unique "blurred" look of an ikat textile using a digital printed pattern over layers of dyed yarn. Its circular pattern is printed on a white cellulose substrate that gently absorbs the ink and allows the colors to blend like watercolor paint, creating a soft and elegant pattern.
Ferghana is accented with metallic yarn that adds depth and a hint of shine to the stunning design, making a beautiful statement in any space. The thin metallic yarn is integrated in horizontal stripes within the Ikat inspired design. Available in hues ranging from a soft grey to a rich brown, Ferghana finds its home in a wide range of interiors. Ferghana is one of 11 new designs in the Layered Forms collection, inspired by the art of sculpture. The collection incorporates ancient craft techniques to form stunning new patterns layered with color and texture, like a work of art carefully sculpted for the wall. For more information and to discover Ferghana click
here
. About Innovations: For over 45 years, Innovations has been committed to forward-thinking design and creating wallcoverings that transform interiors. With everything from natural wovens to luxe textiles and elevated vinyls, Innovations' versatile assortment explores materiality and technique without compromising durability. Experience wallcovering with Innovations.