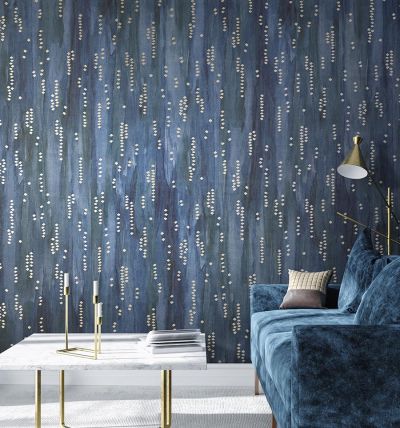 Harlequin HAR-04 Birghella
The influence of textiles on natural wallcovering in this collection extends beyond wovens to abaca and paper. A layering technique highlights the heathered look of natural abaca in Allay. An upscale diagonal pattern is accented with delicate nylon threads, creating depth and texture. Available in both nurturing and bold hues, Allay provides a balanced backdrop with a natural element for serene interior spaces. The collection also includes Pulse, an eye-catching pattern reminiscent of bookmatched stone. This environmentally friendly cellulose wallcovering provides energetic texture layered with an eclectic rhythm of color. Lastly, the collection includes elevated vinyls with rich textures that are perfect for high traffic areas without compromising on style. Inspired by the iconic Chanel jacket with its loop yarn construction, Boucle reinvents the appearance of timeless luxury for the walls. With its long-lasting design and durable composition, this Type II vinyl offers an elegant solution for any interior. Electrum finds inspiration in Earth's natural processes. Digitally printed on mylar, a contemporary crosshatch design emulates the effects of erosion on a vertical surface. This Type II vinyl offers subtle texture in a luxe palette of matte colorways, with metallic accents ranging from cool silver to deep bronze. With ten textile-inspired designs that range from linen, to naturals, to vinyls, the Modern Threads collection is as beautiful as it is practical. Experience the Modern Threads Collection.
###
Contact: Brittany Kane T. 212.807.6300
E. bkane@innovationsusa.com
About Innovations: For over 45 years, Innovations has been committed to forward-thinking design and creating wallcoverings that transform interiors. With everything from natural wovens to luxe textiles and elevated vinyls, Innovations' versatile assortment explores materiality and technique without compromising durability. Experience wallcovering with Innovations.