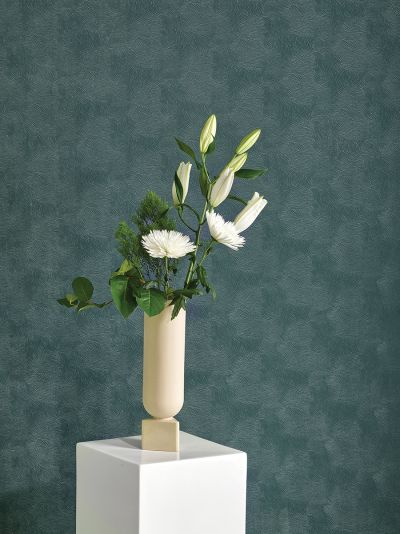 Contoured Suede CTS-05 Sea Mist
Taking inspiration from dot and line work in ancient mark-making, Innovations also developed patterns like Tulum, a digitally printed cork wallcovering that playful layers lines into arches, and Walden, a soft abstraction digitally printed on a luxurious metallic foil-backed silk substrate. More subtle, timeless textures in the collection make color the focal point. Elevated Type II vinyl wallcovering Pointille, a soothing, two-tone texture with a stippling effect, and Montado, a new type of cork wallcovering made with narrow vertical strips with a distinct horizontal nature, embrace interior trends toward warm neutrals like buttercream, beige and taupe. Both offer color-forward, metallic palettes that complement the collection. Overall, the Focal Point's color direction is best reflected in Alchemy, Innovations' signature wallcovering, now reinvented as a Type II vinyl. The timeless texture, a fibrous, non-woven fabric over a pearlescent vinyl substrate, is one that Innovations pioneered and has refined over the years. Again, connecting old and new, Innovations relaunches Alchemy this spring with Type II vinyl durability and an extended palette with 13 fresh new colorways. With the relaunch of Alchemy and introduction of eight new wallcovering concepts, Innovations' SP22 Focal Point collection creates statement walls, the moments where all elements converge.
###
Contact: Brittany Kane T. 212.807.6300
E. bkane@innovationsusa.com
About Innovations: For over 45 years, Innovations has been committed to forward-thinking design and creating wallcoverings that transform interiors. With everything from natural wovens to luxe textiles and elevated vinyls, Innovations' versatile assortment explores materiality and technique without compromising durability. Experience wallcovering with Innovations.